Increases in occupancy, ADR and revenue per available room ("RevPAR") continued to accelerate across Manhattan during the first half of 2022. Q2 RevPAR experienced a year-over-year increase of 166.8 percent, with the strongest gains in April, which experienced a year-over-year increase of 220.4 percent. Q1 RevPAR was also up 135.7 percent from the same period in 2021.
"Manhattan hotels are finally experiencing a sustaining recovery. While RevPAR was still down 11.7% in 1H 2022 from the same period in 2019, it was a significant improvement from a year ago, when RevPAR during 1H was down 57.2% from the same period in 2019. The lifting of COVID-19 pre-departure testing is expected to positively impact inbound international travel for the second half of this year in Manhattan." — Warren Marr, Managing Director, PwC
RevPAR increased 166 percent year-over-year during the second quarter of 2022. Occupancy and average daily rate ("ADR") surged as both group and summer leisure travel began to re emerge and pandemic-related travel restrictions were softened. Year-over-year increases in occupancy were highest in April – up 70.3 percent. With overall occupancy for the quarter at 81.3 percent and ADR at $314.54, Manhattan RevPAR more than doubled from $95.81 in Q2 2021 to $255.61 in Q2 2022.
Of the four market classes tracked, upper upscale properties exhibited the most notable year-over-year increase in RevPAR – up 201.5 percent for the quarter, driven by an 84.3 percent increase in occupancy from 43.1 percent in 2021 to 79.5 percent, and a 63.6 percent increase in ADR from $185.13 to $302.80. For upscale properties, occupancy grew by 45.7 percent and ADR experienced an increase of 86.8 percent, resulting in a year-over-year RevPAR increase of 172.2 percent.
Luxury and upper midscale properties posted lower, but still significant increases in RevPAR of 105.9 and 130.3 percent, respectively. With the luxury segment posting a lowest increase in ADR – up 16.4 percent, and the upper midscale segment posting the lowest increase in occupancy – up 32.1 percent, RevPAR finished the quarter at $432.75 and $185.62, respectively.
Of the five Manhattan neighborhoods, Midtown East had the largest increase in RevPAR – up 234.4 percent, driven in large part by a 92.4 percent increase in occupancy year over-year. Midtown West RevPAR grew by 193.0 percent, largely driven by an 82.6 percent increase in ADR. Lower Manhattan and Midtown South posted RevPAR increases of 147.1 and 162.7 percent, respectively. Upper Manhattan had the smallest increase in RevPAR – still up a significant 90.4 percent.
During the second quarter, occupancy at full-service hotels increased at almost twice the rate of limited-service hotels, with year-over-year increases in occupancy of 63.4 and 34.3 percent, respectively. RevPAR increased 171.9 percent for full-service properties, while limited-service hotels saw an increase of 141.8 percent over the same period.
For chain-affiliated and independent hotels, second quarter RevPAR grew by 180.9 and 144.3 percent, respectively. The improvement in chain-affiliated hotels was primarily driven by a stronger increase in ADR – up 83.1 percent.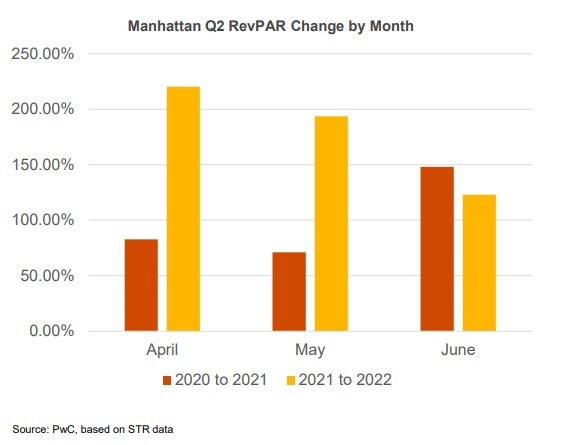 About PwC US
PwC US helps organizations and individuals create the value they're looking for. We're a member of the PwC network of firms in 157 countries with more than 195,000 people. We're committed to delivering quality in assurance, tax and advisory services. Tell us what matters to you and find out more by visiting us at www.pwc.com/US. PwC refers to the US member firm, and may sometimes refer to the PwC network. Each member firm is a separate legal entity. Please see www.pwc.com/structure for further details.
https://www.hospitalitynet.org/news/4112178.html