(Part 2 of 2)
IN the first part of this article, we highlighted an initiative of Colliers' Office Services – Tenant Representation called The New Normal Paper Series, which sought to guide office market stakeholders how to survive the challenges of the coronavirus disease 2019 (COVID-19) pandemic.
In this series, our hope was to encourage our clients and partners to continuously swim through murky waters so as not to stagnate, since inaction and paralysis could be worse for all of us.
When we were tallying the results of the first quarter performance of the office market, we were so glad to see that the office market occupancy has stabilized as we recorded the net take-up to be positive.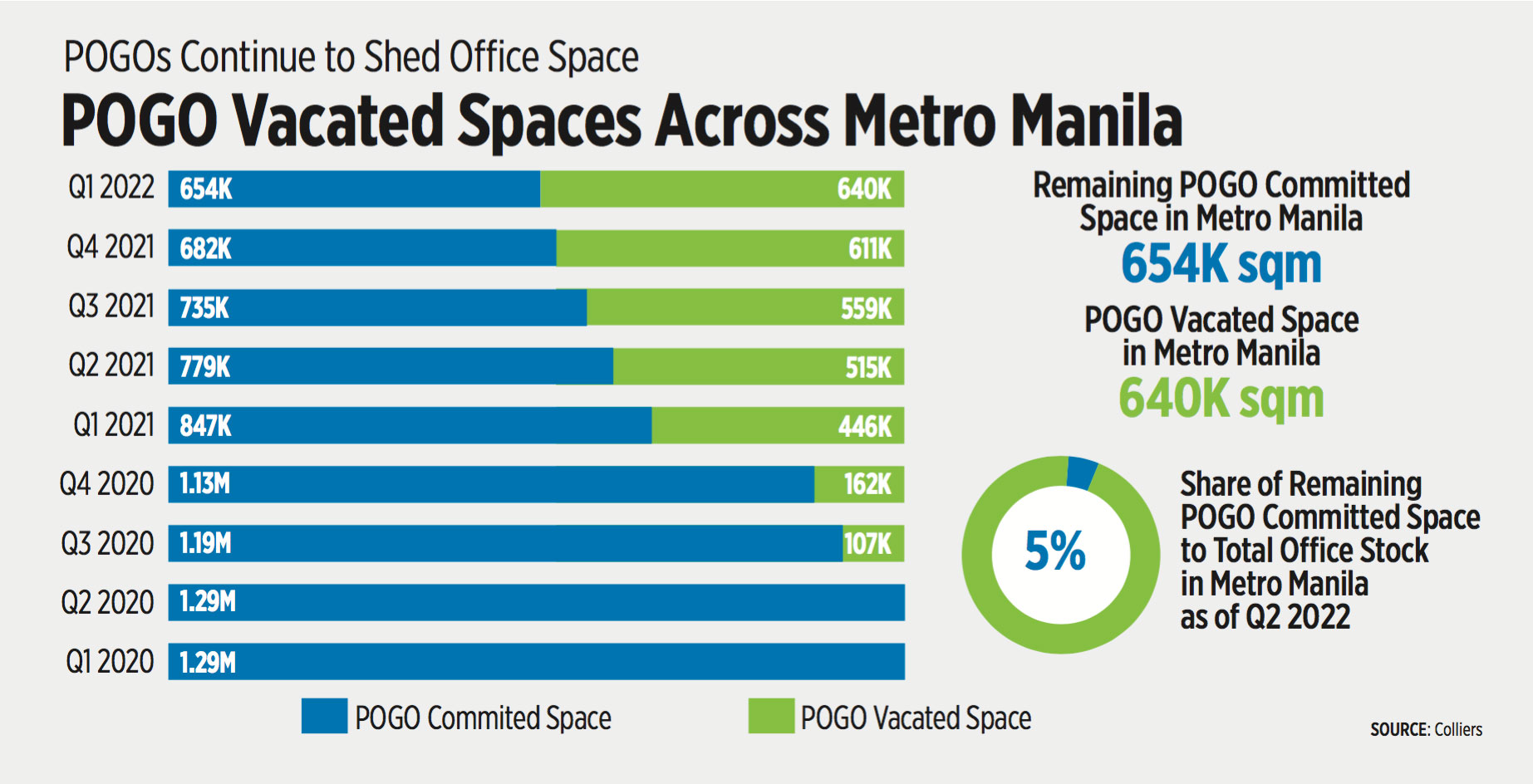 VACANCY TO INCREASE, THEN PLATEAU BEFORE FALLING
While the net office take-up turned a corner already in the first quarter of 2022, vacancy is still expected to increase to the 18% level within 2022 as Colliers projects an annual office addition of 822,000 square meters (sq.m.).
Based on the first quarter results, Colliers maintained the projected year-end vacancy of 18% despite the high level of supply as the project annual net take-up was adjusted upwards in view of the increasing demand from the traditional occupiers and business process outsourcing (BPOs) companies.
The 2.3 million sq.m. of available spaces are expected to be absorbed in three to four years' time considering the demand level and office market size of between 500,000 to 600,000 sq.m. before the POGOs entered the Philippine office market.
This means that vacancy and rental recovery to pre-pandemic level will be gradual, so our advice is for both tenants and landlords to continue working very closely during this period.
The POGOs remained to quiet in the first quarter as Colliers did not record any transaction from this industry. As of the first quarter this year, approximately 640,000 sq.m. of office space has been shed by POGOs in Metro Manila, which reduced its share to just 5%.
The issues hounding the industry are being addressed one-by-one like the tax system and the inbound flights. It remains to be seen though if the POGOs will grow again, but a POGO return will certainly help the office market recover faster.
The first chart shows a simulation of a POGO comeback which can help reduce the office vacancy close to 10%, instead of 15% without the POGOs.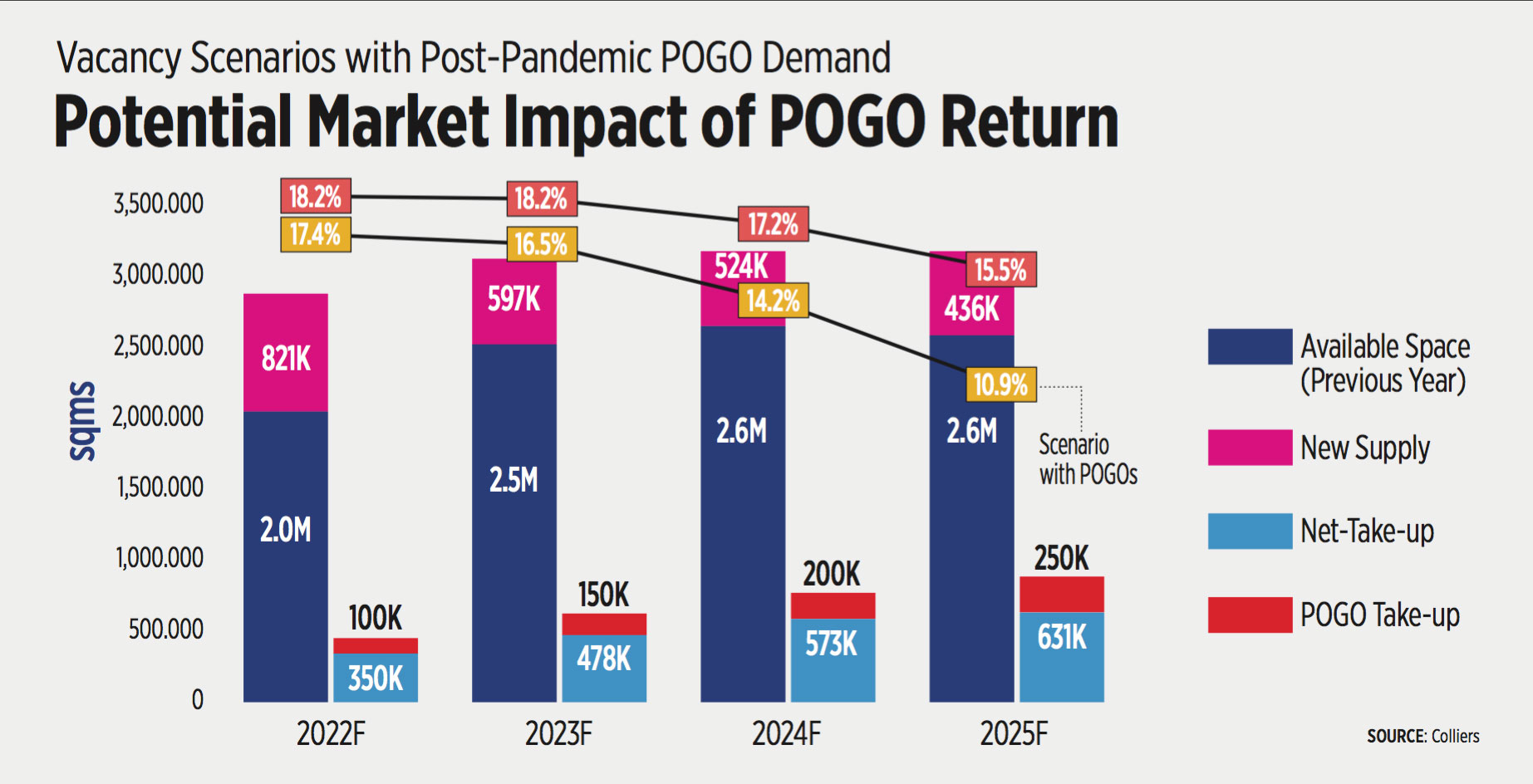 OUTLOOK
As COVID-19 restrictions are quickly loosening and workers are now returning to office, Colliers sees that the Metro Manila office market is set improve further for the latter part of the year.
In our view, the return-to-office and expansion plans of companies, coupled with greater resiliency to COVID-19 and economic stimulus legislations should accelerate take-up for the remainder of 2022.
Given this backdrop, Colliers recommends that occupiers who plan to expand, relocate, or set up a new office to streamline their site selection timelines.
With the ongoing rental corrections and tenant-favorable market conditions, companies who are in a wait-and-see may want to implement flight-to-quality or flight-to-cost measures as soon as possible to secure office spaces at more competitive terms before the market rebound increases occupancy in highly sought-after properties in prime locations, such as Ortigas central business district, Bay Area, Quezon City and Alabang.
With the recent passage of key investment-related legislation, Colliers also suggests that landlords proactively capture demand from incoming foreign players as their entry should improve the country's investment climate. The relaxed regulations on foreign ownership and taxation will likely translate to multiplier effects on the economy and increased demand for office space in the country.
Lastly, landlords are encouraged to remain flexible and accommodate the requests of their existing tenants (both commercial and operational in nature) to aid in the business recovery of companies and maintain their occupancy.
Dom Fredrick Andaya is the senior director and head of Office Services, Tenant Representation, Colliers Philippines