The first piece of San Antonio's I-35 NEX project — a four-mile $630 million stretch of I-35 bounded on the north and south by Loop 410 — will go out for bids next month.
The expansion of Interstate 35 through San Antonio — especially from downtown San Antonio to the Schertz area — has been on the table since the mid-90s. Now, with growth ramping up along the Loop 410 corridor, the estimated $3 billion I-35 NEX moves toward construction.
This major project moves forward without tolls. The first four-mile segment of the project, including upgrades to I-35 through San Antonio, is ranked on the state's list of most congested roadways and qualifies as a Texas Clean Lanes project.
"I-35 is a major north-south transportation corridor, and this portion ranks as No. 61 on the Top 100 list of most congested roadways in Texas," TxDOT Deputy Executive Director Brian Barth told the five-member Texas Transportation Commission at its March meeting. "It also connects to No. 38 and No. 68."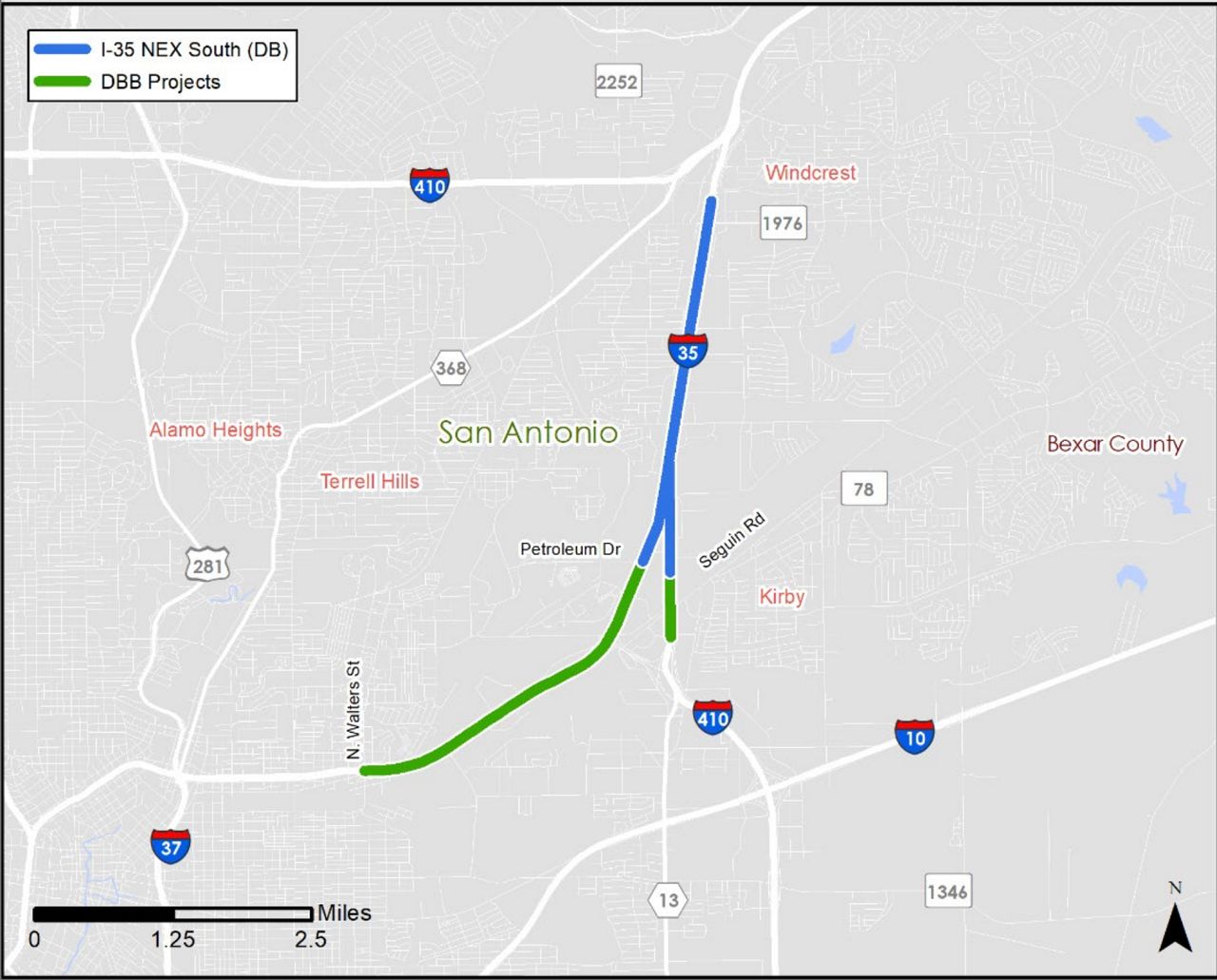 The price tag on the full project — an almost 20-mile stretch through Bexar, Comal and Guadalupe counties — is high because the highway will be double-decked. Elevated lanes on each side of the freeway, when completed, will add two lanes for regular traffic flow and one lane that meets the definition for non-tolled high-occupancy vehicles.
The study of this version of the I-35 NEX project — with tolls — began at the request of the Alamo Area Regional Mobility Authority in 2011. It was "de-tolled" in 2018.
Completion of the first section of the expanded freeway will be completed in 2028, roughly three decades after serious discussion began on expanding San Antonio's major freeway. Commissioner Robert Vaughn asked how TxDOT was going to keep up with current population growth, especially in the high-growth Austin-San Antonio corridor.
"What are we doing — in a general sense — when we're approving hundreds of millions of dollars for a project like this on a major corridor?" Vaughn, of Dallas, asked. "What are we doing to not only anticipate building this out, but also being in a position to potentially expand that capacity in future years as population density increases?"
TxDOT leans heavily on evolving population growth numbers from the state demographer, Barth told the commission. I-35 NEX is built with a 25-year design life.
"We have an I-35 river to river study, from the Rio Grande to the Red River," Barth said. "It included this section from Austin to San Antonio, and those exact issues were discussed in developing that bigger plan."
One check TxDOT will be will make sure a major road project meets near-term needs, Barth said. But even as construction is occurring, the agency also makes sure ongoing road projects are compatible with the long-range plans for the future expansion of I-35, he said.
Chair Bruce Bugg, Jr. of San Antonio noted that alternate corridors — such as using State Highway 130 as a pressure valve to relieve I-35 through Austin — also are part of the discussion.
The timeline for construction of the first section of the I-35 NEX project is to post a request for qualifications for a designer in April. Qualified designers will submit a request for proposal in Spring 2023. A design-build contractor will be picked next summer. Construction will be completed on the first phase of the project in 2028.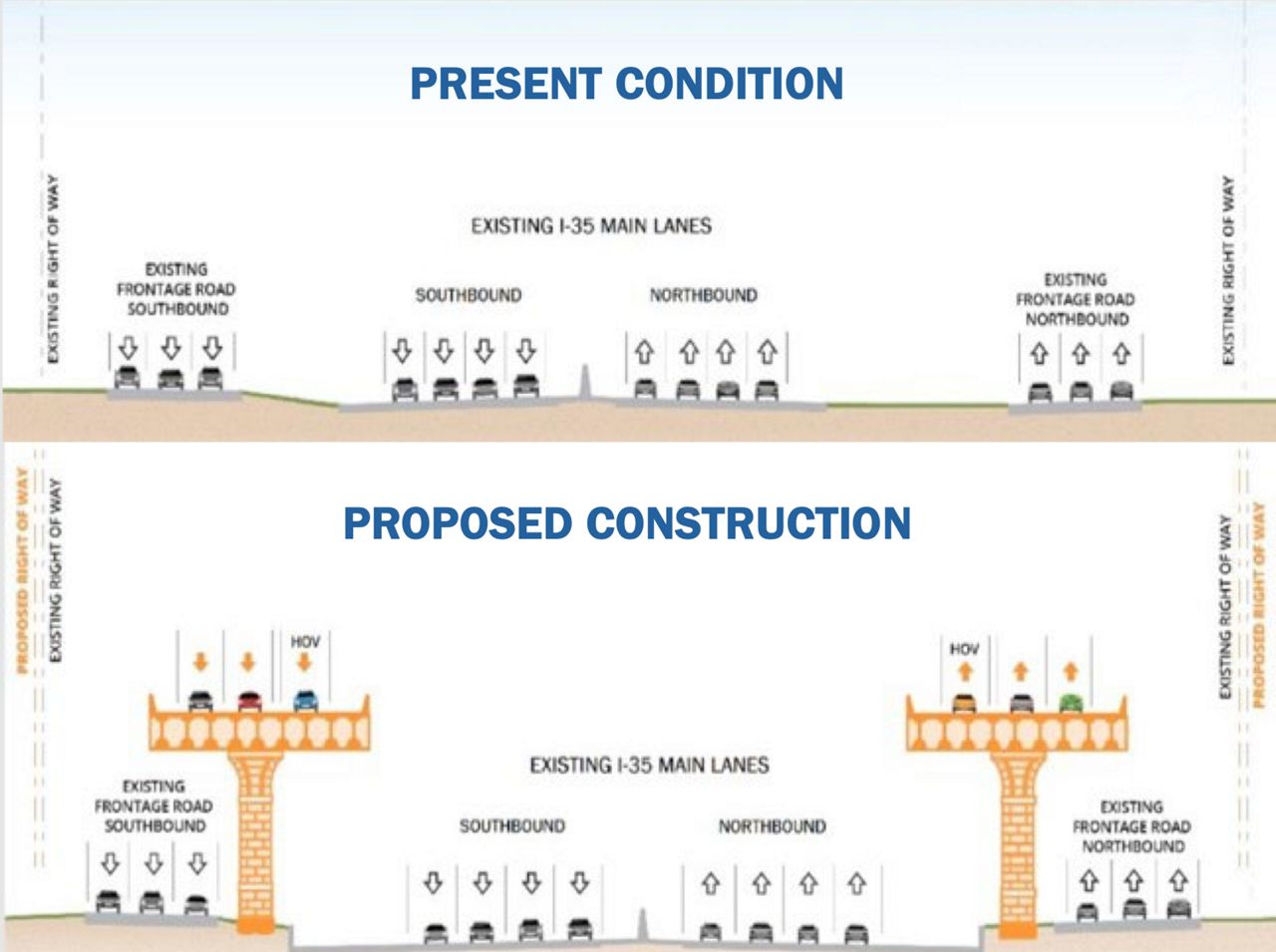 https://spectrumlocalnews.com/tx/austin/news/2022/04/19/i-35-expansion-through-sa-set-to-begin-next-year